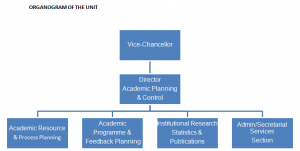 At the University of Nigeria, Nsukka, the Academic Planning Unit is one of the Units in the Vice-Chancellor's Office.  The Unit serves as a quality control unit of the University.  One of its main responsibilities is obtaining up-to-date, relevant and accurate data for processing and or for generating relevant information to guide university management for accurate and timely decision making on university matters.
Academic Planning Unit of the University of Nigeria at present has its structure as the one shown above.
All planning, research statistics and publications functions are handled jointly by planning officers while the administrative and secretarial units handle administrative and secretarial functions and data entry operations.
FUNCTIONS OF EACH UNIT/SECTION
ACADEMIC RESOURCE AND PROCESS PLANNING SECTION
Collection, analysis and interpretation of data from relevant university bodies such as; the faculties, centres, institutes, administrative unit
Development of information data bank on various aspects of University operation for use by the University as it deems fit. Among the key information to be collected here are information on university/academic facilities;
Periodic up-dating and analysis of data for internal evaluation of the performance status of the University on all the NUC approved funding parameters and other guidelines;
Annual up-dating, projections, analysis and interpretation of data for the planning and preparation of University budget.
Ensures that the University Annual Recurrent Budget Estimates are produced in line with the NUC's approved formats and submitted for the NUC Annual Review Meeting.
Understand and interpret the implications of the results of performance of a university after the analysis of the University's submission on Recurrent Budget Estimates have been made by NUC and advise the Vice Chancellor accordingly based on the results of the analysis.
Provides basis for Process planning by using collected data for making projections and advising the university on areas of dire concern and alert and; Assisting the NUC and the university in identifying new guidelines and criteria and modification of existing ones for annual resource allocation; participating in the production and/or revision of long-term, medium or short-term plans, academic briefs and modeling of such against reality and university goals.
ACADEMIC PROGRAMME AND FEEDBACK PLANNING SECTION:
Keeps up to date records on the accreditation status of all academic programmes in the University
Provision/monitoring the completion of self study Form B by departments in readiness for NUC Programme accreditation.
Ensures that self study Form A for all academic programmes due for NUC Accreditation are completed correctly and all the necessary information required are provided.
Collate, process and uploads students/staff data to NUC portal/website at the end of every session.
Passing on to relevant units, necessary information on NUC minimum Academic Standards and ensuring that university complies with and maintains standards
Collate, process, and produce university statistics annually (using the NUC's approved formats) for submission to NUC as and when due.
Prepares the University's annual report and submits same to the NUC using the NUC approved template.
Ensures that only programmes with NUC's approved Benchmark Minimum Academic Standards (BMAS) are allowed to run in the University.
Ensures that the BMAS for each discipline is made available to all faculties, departments and widely circulated among academic staff in the University for reference
Responsible for the completeion and submission of application forms for the establishment of new units and academic programs and splitting of programmes and units at all levels.
Keeps up-to-date administrative records on admissions, student enrollment, graduate output, and finance at all times. This is done in collaboration with the registry and the ICT/MIS unit of the University.
Insists that the University follow due process when applying for the establishment of new academic units/programmes and ensures that approval is obtained from NUC before the commencement of such programmes
Participating in the production and or revision of long-term, medium-term and short-term academic briefs and modeling such plans against realities and university goals.
Be responsible for the preparation of Academic calendar for the University and ensuring that it is implemented and submitted to the NUC
INSTITUTIONAL RESEARCH STATISTICS & PUBLICATION
Collection and storage of statistical publications from other universities;
Documenting and information storage on the academic programmes of the university;
Preparation of research materials/papers on the basis of data supplied from feedback planning;
Analysis and interpretation of university's annual and trend statistics;
Publication of the University records, statistics, and research reports as may be directed or approved by the Vice-Chancellor.
Publication of the University's Annual Report, Institutional Research, after the preparation by the other units
Documentations of Academic Publications by Staff and providing summary statistics periodically for monitoring of academic performance.
Monitoring Academic Planning activities as streamlined by CODAPNU, up-dating of the unit's "Planning Officers' Manual" and mounting periodic capacity development programme for new staff and other staff of the Unit in areas needed to enhance performance.
ADMINISTRATIVE SECTION/SECRETARIAL SECTIONS
Staff Matters on assessment, discipline, annual leave and welfare
Strategic Plan – liaise with various units for input for the preparation of the university strategic plan.
Nominal Roll – Updates staff nominal roll regularly with updates received from Personnel on recruitments/appointments, promotions, retirement, death etc.
Production of Publications – Printing, collating and binding of approved reports of the APU and distribution of same to relevant units
Call Circulars – Prepares and follows up on call circulars for input data for APU reports and publications
Training and Workshops – Assessment of staff development needs and making proposals for in-house training.
Attends to all visitors seeking audience with the Director, Academic Planning Unit or information from the Unit
Prepares, typesets and processes mail/documents emanating form the office of the Director Academic Planning
Registers in-coming and out-going mails of the unit.
Operates the Units official e-mail account by daily checking e-mails and sending mails to other sections as may be required.
Dispatches/distributes the unit circulars and published annual reports to relevant university bodies within and outside the university
Operates good file management system to easily stores, backup and track electronic and hard copies of the unit's files and documents.
Operates good file indexing and referencing system for correspondences and proper filing, tracking and easy retrieval of official correspondences and records.
Keeps an up-to-date inventory of the Unit's Office Equipment
Arranges for the maintenance/repairs office equipments such as computers, printers, photocopies and other electrical appliances.